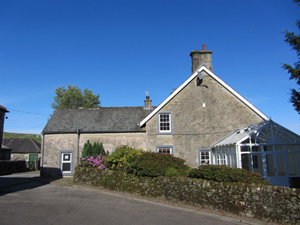 Culture and Heritage
The Valley of Hermitage Water is on the Border Reiver Trail (50 miles long) a route around iconic and famous Reiver sites. www.thereivertrail.com
The Brownie of Gorrenberry - Sir Walter Scott and others recorded that the Hermitage Valley was the home of a supernatural being, the Brownie of Gorrenberry. This well-disposed sprite use to look after Old Gorrenberry Farmhouse, just up the road, but decided to leave some centuries ago, upset by domestic strife in the household.
Hermitage Castle (on the Reiver Trail). www.historic-scotland.gov.uk Only a mile and a half away, forbidding, mediaeval Hermitage Castle, witness to many key events in 400 years of Scotland's history. Mary Queen of Scots rode over the hills from Jedburgh one dark and stormy night to visit her lover Bothwell when he lay here wounded.
Waverley Route Heritage Association bringing back rails to the borders, development of the railway of interest to railway enthusiasts. Just in the next valley of Whitrope. www.wrha.org.uk
The Heritage Hub, Hawick Scottish Borders Archive and Local History Service - search archives of local and family history, find out about how people worked and lived in the past. www.heartofhawick.co.uk/heritagehub
Kielder Forest Park and Northumberland National Park are nearby.
Border Abbey Way Route linking 4 great Abbeys in the region of Jedburgh, Kelso, Melrose & Dryburgh www.scotland.gov.uk
Abbotsford www.scottsabbotsford.co.uk Home of Sir Walter Scott, the famous writer and antiquary who documented much of the history and lore of the Borders.
Newcastleton The nearby village of Newcastleton (approx 7 miles away) -known as Copshaw Holm- founded in 1793 by the Duke of Buccluech www.visitnewcastleton.com
Langholm The nearest town is Langholm, a small but significant town which lies at the confluence of the River Esk & Ewes Water. Home of Thomas Telford who later went on to transform much of Scotland with his roads, canals, harbours and churches www.undiscoveredscotland.co.uk/langholm
Outdoor Activities
Walking You can walk right on to the hills from the house. There are any number of walks for every level of experience and energy starting from the front door. Maps of walks on the 2500 acre Gorrenberry Estate are available in the house. In addition, you could download Geoeditor for Maptiler, a free mobile application which allows you to use scanned maps and geodata on your mobile device. Then download the map for Gorrenberry which has all the footpaths on it. (You should be able to save it directly to Maptiler.) You can then use your iphone as a handy 'electronic map' with your location shown on the map and constantly updated by the GPS receiver in your iphone. So long as there is charge in your battery, you will not get lost!
The Scottish Borders Council website shows a number of paths in the area. Under Scottish legislation you are free to walk anywhere provided you observe the Scottish Outdoor Access Code.
Cycling 7Stanes mountain bike trails. Close to the Scotland-England border in Newcastleton mountain bike trails for all levels of cycling. www.7stanemountainbiking.com/Newcastleton
Horse riding the valley has miles of accessible farm tracks and quiet country roads starting from the farmhouse.
Fishing Salmon and trout fishing on Border Esk and Liddle Water, rod licence required. To find out where to fish visit Esk and Liddle Fishery Office website.